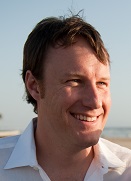 AVA Capital Advisors is lead by Chris Yerich who has a comprehensive background in agricultural, commercial and real estate investment and advisory transactions, including valuation, negotiation, debt and equity structuring, mergers and acquisitions, joint ventures, as well as purchase, sale and lease dealings.
Prior to forming AVA, Chris was a Vice President and Team Leader at Rabobank N.A. (RNA), a subsidiary of the Rabobank Group, the world's leading and largest agricultural bank. At RNA he provided banking and financial products and solutions to more than forty Central Coast agribusiness and commercial clients who own and operate vineyards, wineries, distilleries, cattle, seed, fruit, nut, research and substrate companies in addition to clothing, fuel, food, construction and aviation service providers. Previous to Rabobank, Chris worked for Wells Fargo's Real Estate Investment Group in Irvine, CA where he oversaw a portfolio of privately held and publicly traded Real Estate Investment Trust (REIT) clients who own and manage retail, office, industrial and multi-family properties.
Chris began his career in New York where he learned construction management, real estate development and corporate finance. He started as a Project Engineer with Bovis Lend Lease, helping to manage development and construction of high rise commercial, retail and residential space in the city. He was subsequently hired as a Project Manager for Solow Realty and Development Corporation to help oversee and direct property managers, building superintendents, contractors, brokers, and tenants of the company's 3.5mln square foot commercial, office and residential portfolio in Manhattan. At Solow Chis took an interest in the finance side of the industry and eventually was hired as a Financial Analyst for The Situs Companies. While at Situs he performed due diligence for real estate acquisitions, refinancing, recapitalizations, and restructurings for investment banks including Barclay's Capital, RBS Greenwich Capital, CIBC, and Citibank concentrating in Office, Hospitality, Industrial Flex, Manufactured Housing, Ground Lease, Mixed Use and Retail real estate categories.
Chris earned his undergraduate degree in Business Administration from the University of Denver majoring in Real Estate and Construction Management and an MBA from Fordham University with a duel concentration in Finance and Accounting. He has also attended the University of Washington's Pacific Coast Banking School and California Polytechnic State University's Wine Certificate program.
Chris has been consistently recognized by the Pacific Coast Business Times as one of the Central Coast's Who's Who in Agriculture and Viticulture and was selected as one of the publications 40 Under 40 Award Recipients in 2011. He's represented RNA on several central coast business and community non-profit sponsorships and continues to sit on the Paso Robles Chamber of Commerce Ag Tour committee.